At the beginning of last year, I started a special post on one of my favorite Moms websites. I had planned to make it at least a weekly posting but life had other plans for me. As the year went on and I got busier and busier with my job, the posts fell off to being very sporadic. Finally, the posts ceased all together...
It was an inspirational endeavor that helped many Moms and maybe even a few Dads, but it especially helped me through some extremely difficult personal times. I miss it!
I would like to start this unique idea here on my blog in the hopes that it will introduce all of you to some wonderful, quality Children's books and also encourage you to be positive in your interactions with others each day. I know that it will once again help me!
The thoughts are based on quotes from Children's books along with a pledge to be more positive in our every day lives with ourselves, our children, our family, our friends, and even strangers. Please feel free to add your own thoughts, quotes, or pledges in the comment section. I would love to read what has inspired you to be more positive in your daily life.
My first "Today I will..." pledge: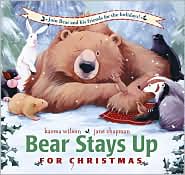 illustrated by Jane Chapman
He stands with a stretch
and a great big sigh.
"I hope I can make it.
I do want to try."
Today I will...

TRY!

Just like my wonderful friend, Bear!
I will try!
"I do want to make it" and so I will try again and again today. That is one of the most important things that any of us can do for ourselves each day.
Bear is a wonderful character to introduce your children to because he is full of innocence, hope, and a perpetual kindness that is much-needed in our world today. Bear and friends show true friendship from their hearts in each of their lively interactions with each other. Their adventures are fun and enjoyable! They beckon you and your child to follow along.
I hope you will take a few minutes out of your busy day to find one of Bear's many books at your local bookstore or at your neighborhood library. Take a moment to share a loving memory with your child today as you make a new friend in Bear.
Just try!
I know you will enjoy your time spent with Bear and his friends and you will cherish the memory you make together with your child!
Merry Christmas!